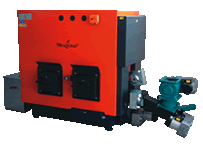 Boilers
The HEIZOMAT biomass boilers guarantee a highly developed, innovative and clean gain of energy.

Always a step ahead: high efficiency (90%), variety of fuels, low fuel consumption, high handling comfort and safety.

Fuels:
Our fire places are able to burn a variety of bio-mass, for example:
Wood-chips, saw-shavings, plan-shavings, industrial waste-chips, pellets, wood-briquets, strawbriquets



WoodChippers
Our experience since 1982 in the research & development of wood chippers, and the set up of our own production, has brought us to the top of this technology.

slab wood
trunks
hedges
bushes
saw mill waste
other wood waste (bark, pales, edge wood)
and more

are precision chopped and transformed to high valued fuel.



All manually fed wood chippers comply with the GPSG norm – the German Law of Device and Product Safety and display the 'GS' label (Geprüfte Sicherheit) equivalent to 'Tested Safety'.